DecoRad® Systems bv offers a complete range of on-site UV / LED curing equipment as well as industrial LED equipment.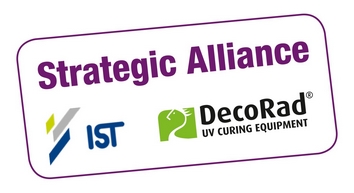 LED is used to dry LED hardwax oils. Traditional UV equipment is suitable for all UV lacquers and coatings currently available worldwide.
Many leading brands offer UV curable coatings for wood,resilient, mineral and PU floors.
Strategic Alliance IST METZ and DecoRad Systems.
The german IST METZ GmbH and the dutch DecoRad Systems announce their international cooperation.
Both companies are active in the UV curing industry, IST METZ leading in industrial UV and DecoRad Systems in on-site UV.
DecoRad's latest developments have IST components inside.
DecoRad UV and LED equipment will also be available via the IST distribution network. 
DecoRad Systems bv is member of: